Activeworlds - Holiday village in Winter (
Permalink
)
I guess it's that time of year again. There's a Holiday Village contest in Winter world on Activeworlds. I built on a lot but I don't think it's one of the lots that would win a prize. I had fun tinkering with it though. Not sure if I'm done but I think I got everything as I possibly can.
A Quick Glimpse

It's all fun and games till someone loses an arm.
Don't they look lovely?


Glimpse of bedroom

That's what I slapped together. I am incredibly thankful that the 'scale' feature exists. That makes it tons easy to resize objects to make everything fit and to create new stuff.
Ah, and a quick glimpse of when I started - and almost ready to call it quits because they were horribly pieced together!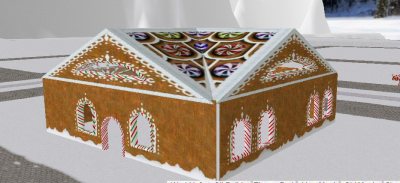 Posted by Blue Green Gem at 12:14 AM EST