Customizing the Blog! (
Permalink
)
Mood:
accident prone
Now Playing: 4 Strings - Let It Rain
Topic: Miscellaneous
Whew. Lots of trial and error and I'm still not done yet. It's been fun to see how far I can take this blog with customization and whatnot. I'm still not sure I'd update this blog but eh... At least it's around.

Testing image upload....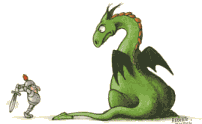 I wish I knew who made that ''dragon flaming knight'' image. It sat around on my zipdisks forever...
Posted by Blue Green Gem at 10:12 PM EDT