20th Anniversary of Website (
Permalink
)
Mood:
a-ok
Now Playing: La Luna - When The Morning Comes
Topic: Miscellaneous
Geez, is it already 2018? Hard to believe that I created this webpage during the chat and personal homepage craze back then. These days it's all social media!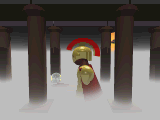 (Steve Bennett/KarmaStorm)
I'm surprised Tripod is still going when other sites have shut down. I don't know. I'm impressed.
I thought I'd have something more impressive to say for a 20th anniversary...
Posted by Blue Green Gem at 12:01 AM EST
Updated: Wednesday, January 31, 2018 10:47 PM EST