Welcome to ''Imagine a Dragon''. It is a 'save the dragons' type of campaign. *grins* Go on, Imagine a dragon. Any dragon.. large, small, evil, kind, ferocious, generous... You could even get silly and imagine a dragon serving you ice cream in your own home.

Dragons have lurked in our dreams and popped up in our books... even our imagination has played with them. With this campaign, Let's keep the dragons alive...


























I have finally done it, After getting a little bit of time, I managed to expand to several more campaigns! I am still working on several more, Just give me some more time. :)


























This button below is the original button for ''Imagine a Dragon''. But I know it's a bit fugly so I provided other buttons for you to use.
What you do is copy the code shown above and you apply it to your homepage. To prevent bandwidth stealing, You must save the image to your harddrive and upload it to your page.


























Here are several other buttons you may use...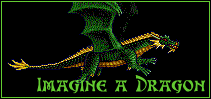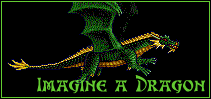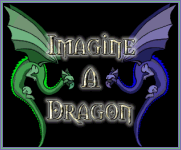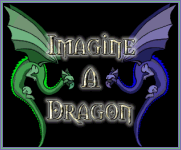 Q: How do I sign up?
A: You post a button on your site (And also leave an entry in the guestbook below if you like.) Or join the new webring!

Q: I don't have a webpage, How do I show my support?
A: You could sign the guestbook below and leave an entry. I also knew this girl who used to sign a lot of guestbooks and linked to this campaign. That was awful nice of her but unfortunately I lost contact with her. :(

Q: I like to make my own buttons, Will you post it on your page?
A: Some have actually made their own buttons! I'm impressed! If you want me to post them here, Let me know! I'll credit you for it with a link to your site.
Main Page
"Imagine a Dragon" page has been posted October 11th, 1998